Oregon Issues Hemp Farming Licenses
By Keith Mansur
Oregon Cannabis Connection
The Oregon Department of Agriculture began accepting applications at the beginning of February for licenses to grow industrial hemp under a list of new rules that will regulate the industry in the state. The licenses, which cost $1,500.00 and last for three years, are expected to be issued in time for spring planting.
The crop, which holds arguably the most versatile fiber on the planet, has been illegal to produce in America for over 6 decades due to its association with marijuana. In 1938, the Marijuna Tax Act prohibited people from cultivating cannabis, which includes marijuana and hemp. For a brief period during World War II, Americans were allowed to grow it to help the war effort, but by the early 1950's, it was once again banned.
After years of wrangling and months of rule making, legislators devised their current licensing and regulation plan, which is not particularly attractive to farmers. With the high cost of licensing, and the three year commitment, limits on seed availability, and the requirement to grow a fiber cannabis strain, as opposed to a seed bearing strain, many farmers may not be willing to take a risk with such a new crop and the limited market.
From www.oregon.gov – Partial summary of industrial hemp regulations (OAR 603-048) and state law (ORS 571.300 to 571.315) 
With adoption of the rules, individuals can apply for licenses to grow or handle industrial hemp fiber and for permits to grow and handle agricultural hemp seed, in which case a license is also required
Fees for each permit or license is set at $1,500 and is valid for three years
Oregon's industrial hemp law allows for hemp seed to only be used to plant new crops
The size of the industrial hemp crop of a grower must be at least 2.5 contiguous acres
Industrial hemp must contain less than 0.3 percent tetrahydrocannabinol (THC) to distinguish it from marijuana, which contains much higher THC levels
The rules also describe requirements for record keeping and annual reporting by growers as well as ODA's sampling and inspection requirements and processes
One farmer, Rick Rutherford, has a serious interest in farming hemp. He owns a farm in Dufur, Oregon, south of The Dalles. He wants to plant the versatile crop, but he worries about the regulations that have been developed.
"It's cost prohibitive, even at the level that they have it," Rutherford told OCC in an interview.
With a farm located as far east as his, the costs could get high, fast. The fee is for a three year minimum commitment, and runs $1,500.00 up front. Then, the farmers have to pay the costs for the inspections of the crop, which were set high, pushing the costs and fees for a single year to as much as $1,500.00 for some farmers for what will be a small, experimental crop.
"[They set] a ninety two dollar an hour, minimum of four hours, for the inspection rate, and then ninety two dollars an hour travel time to and from Salem," Rutherford said. "I think that's ludicrous."
He also has concerns about the two different types of seed stock they have available. In Eastern Oregon, rain can be unpredictable and most farmers dry crop (farm relying on rain and not irrigation). Rutherford's concern is that the seed stock available will not do well in their climate.
"I might as well just throw some money in a pit and burn it because I don't know whether the two different types of seed stock they've got will grow where my farm is located," Rutherford explained. "It's a losing situation for me to do that before I know that it's going to grow."
An additional problem, the hemp seed stock the state is looking to get are apparently for a "seed" variety, not a "fiber" variety. They also have stimpulated that if you grow seed, it must be kept for re-planting. If the state wants fiber plants grown, this will pose a barrier, for sure.
There is a possible change on the horizon. The legislature is entertaining a bill, HB 2668, that would remove the need for a license to grow hemp from the Oregon Dept. of Agriculture. It would also allow seed plants to be cultivated, as well as fiber.
Yet, "regulations" is what the U.S. Dept of Justice wants.
In the 2014 Federal farm bill, Congress created an exception to penalties under the Controlled Substance Act only if industrial hemp is cultivated by state Departments of Agriculture, colleges, and/or universities for academic or agricultural research purposes only. This was one reason for the strict rules adopted by the Oregon Dept. of Agriculture in the first place.
Courtney Moran with Earth Law, LLC explained to OCC about HB 2668, "It's very vague and it repeals everything that's in place, although what's in place right now is very restrictive, it at least allows us to move forward despite needing some necessary legislative fixes."
Some of the fixes Moran would like to see include allowing hemp grain as a commodity or product, having a one year license, reducing the minimum acreage from 2.5 acres to something more reasonable, and a few other minor changes.
"I think what we need to do is make changes to the current legislation, and this can either be done by amending HB 2668 to provide for these changes, or to get a whole new bill in place so that farmers could still move forward this year," Moran said.
But, one farmer has moved forward. Edgar Winters (not the musician) of Eagle Point, Oregon has obtained the very first Dept. of Agriculture license. He intends to be involved in a 25 acres plot of hemp. Grown right smack dab in the best sensimilla (seedless female cannabis flowers) growing area in Oregon, and maybe all of the U.S..
The worry? That the industrial hemp pollen will "seed" the normally seed free flowers, making it almost worthless in today's market.
Michael Johnson of Talent Health Club, one of a handful of dispensaries in Southern Oregon, is a longtime OMMP patient and grower and he lives in Williams, Oregon, by far the states most dense marijuana garden area. He believes the hemp will pose a risk to an already burgeoning industry in So. O.
"I am very concerned about hemp cultivation in Oregon. We have a multi-billion dollar sinsemilla industry in our state, and we risk ending the entire thing because of hemp cultivation," Johnson said to OCC. "If we allowed hemp production to go unchecked for 4-5 seasons, I believe we would see widespread pollination's of cannabis crops all over the state and the potential economic impact is massive."
"If we want to save the sungrown cannabis industry, we must keep hemp growing zones far away from the sensimilla growing west of the cascades," Johnson added.
With the deadline for new legislation on Feb 25th, amending HB 2668 might be a more likely solution, if one is reached this year at all. Either way, something needs to be done, because Oregon is getting left behind.
There are a large number of states that have moved toward hemp legalization. The National Congress of State Legislatures reported in Sept 2014 that 18 other states have also passed legislation that allows production of hemp for commerce or allows pilot programs for the study of hemp.
Last year, a few states were able to produce a hemp crop, though miniscule in size. Colorado, though they licensed 1,600 acres to grow, a seed shortage due to federal prohibition in non-sterile hemp seeds reduced the actual planting to only 200 acres, according to the Colorado Dept. of Agriculture. And, in Kentucky, where they have high hopes of growing thousands of acres of hemp, they only planted 13 varieties scattered over a dozen farms.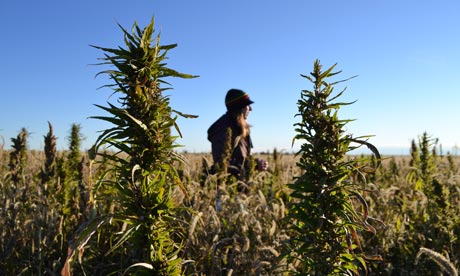 Federal legislators introduced a hemp specific bill in January which was spearheaded by a bi-partisan group of U.S. Senators; Oregonians Ron Wyden (D), and Jeff Merkeley (D), and Kentuckians Rand Paul (R) and Mitch McConnell (R). Called the Industrial Hemp Farming Act of 2015, this bill would remove the federal restrictions on cultivation of hemp.
Once, and if that Federal bill passes at all, the supply of seeds for planting should become open, and America's first serious hemp crops can be planted, and the future will be realized. The American hemp movement will create millions of jobs and help our nation move to sustainable resources.
You can find updates by visiting www.OCCNewspaper.com.